Crown Medical Products hospital and patient accessories are designed for daily nursing staff and patient use. When patient safety and reliability are your main concern Crown's canvas, nylon and mesh lift slings ensure strength and durability. Hospital pillows, plastic equipment bags, cart covers and more. Many sizes in stock. Custom and bariatric sizes available.
When safety and reliability for your patients is your main concern, our patient lift slings are up to the task. Available in Canvas, Nylon and Mesh. Ourmanufacturing process ensures guaranteed strength and durability for homecare and institutional use. All slings are interchangeable and can be used with other manufacturers lifts. Slings work with "V" bar frame only.
Table Header
LS7200
Replacement Sling
Canvas
LS7201
Replacement Sling with Commode Cut-Out
Canvas
LS7202
Replacement Sling
Nylon
LS7203
Replacement Sling with Commode Cut-Out
Nylon
LS7204
Replacement Sling
Mesh
LS7205
Replacement Sling with Commode Cut-Out
Mesh
LS7206
Replacement Chains w "S" hooks
LS7208
Bariatric Sling, Blue heavy duty, 550 lbs capacity
Mesh
Protect your equipment by keeping them dust free after cleaning. Ideal for complying with accredidation. All bags are a heavy duty weight, 1.5 mil plus. Easy to peel off roll.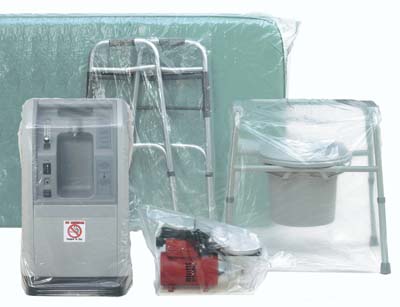 Table Header
EBW3871
Commode,Cconcentrator, Wheelchair & Walker
30" x 12" x 45"
EB3870
Mattresses
38" x 7" x 95"
EB3872
Suction, Nebulizers, BIPAP and CPAP
21.5" x 30 "
All pillows are manufactured using a "hypo-allergenic" high lofted fire-retardant fiber fill. We offer four different pillow tickings: Crown's Chemsafe® vinyl cover, ChemSoft® breathable cover, Softex® navy nylon cover and a poly/cotton cover. The Softex® , Chemsafe® and ChemSoft® are anti-microbial, and meet California Technical Bulletin #117 for fire-retardency.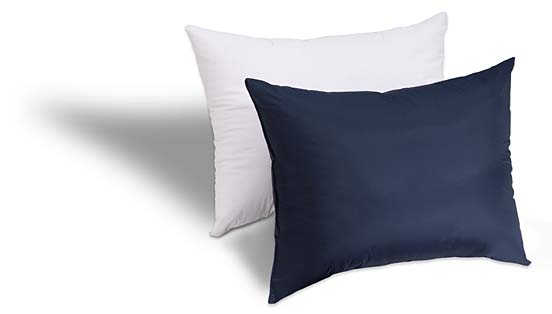 Please specify when Ordering
Table Header
Cover
Chemsafe® • Chemsoft® • Softex • Poly/Cotton
Table Header
HP-24
Hospital Pillows
20" x 26"
Equipment and Cart Covers
We manufacture covers for all departments within a facility: emergency room, linen, operating room, crash carts. All covers are customized to fit your original equipment. Crown offers many different fabrics, such as heavy-duty vinyl, clear see-through vinyl, 400 denier nylon. Each cover can be fabricated with velcro, zipper or lock closure. Silk screening is available with facility logo. *Call for order form.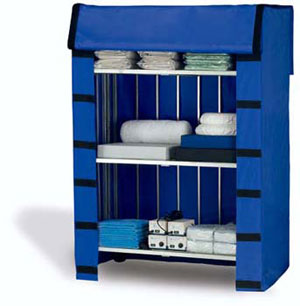 Please specify when Ordering
Table Header
Cover
Vinyl • Clear Vinyl • Denier Nylon
Closure
Velcro • Zipper • Lock Closure
Model
Size
Cart
Custom