Crown Medical Products manufactures a line of durable institutional products designed to withstand the rigors of institutional use. Stock and custom replacement stretcher and operating room mattresses, pressure redistribution stretcher and operating room mattresses and more.
Replacement Stretcher and Operating Room Mattresses
All replacement mattresses are designed to meet the heavy-duty requirements necessary for institutional use. The foam core is high density polyurethane foam that meets California Technical Bulletin #117 for fire-retandancy. A selection of foam and materials are available to meet more stringent fire standards such as California Technical Bulletin #121 and Boston fire code. Your choice of square, round or cut corners are available. Thickness availability: 2", 3" or 4". Available in 1, 2 or 3 sections with either a zippered or sealed lock-stitch closure. Velcro straps, fabric hinges and GU cut-out are available.
The mattresses are manufactured in a variety of cover materials: the conductive material is a UL® registered fabric approved by the Underwriters Laboratories. The non-conductive is a durable bonded vinyl leatherette. Waterfall flaps cover zippers for added protection against infiltration of fluids. Both materials are anti-microbial, non-allergenic and adhere to California Technical Bulletin #117. Meets Federal Flammability Standard 16 CFR 1633 when specified. *Call for order form.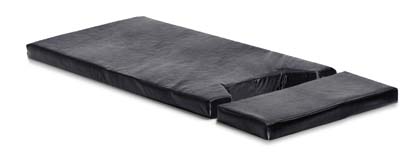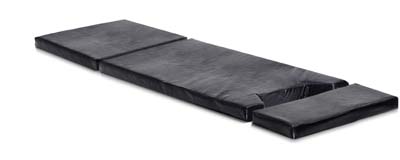 Pressure Redistribution Stretcher & Operating Room Mattress Model SP-2002G
Pressure redistribution is essential for extended surgical procedures. The combination of VPF® (Variable Pressure Foam), Soft Flo® Gel and Viscotec® Visco elastic foam reduces interface pressures and shearing forces. Vyvex III® stretch cover is anti-microbial and fire retardant. *Call for order form.

Please specify when Ordering
Table Header
Sections
1 • 2 • 3
Size
Custom
Thickness
2" • 3" • 4"
Cover
Conductive • Non-conductive
Corners, Head
Square • Round • Cut
Corners, Foot
Square • Round • Cut
Closure
Zippered • Sealed
Features
Velcro Straps • Fabric Hinge • GU Cut-out